Happy Pi Day! Mr. D and I used to celebrate it in high school. He even won a constrained writing prompt once, where each word had to contain the same number of letters as the digits of pi–3.14159. The only phrase he remembers from it now is "audibly delicious," but how could we ever forget the holiday?
It was uniquely ours, a quirk of our nerdy math-and-science school, a day to eat pies and march onto the football team to assemble into the shape of the Greek letter. We had our high school math teacher over for dinner a few nights back, and though I never took his discrete math course, he taught kids about fractals and other cool shit. I wonder if celebrating Pi Day was his idea.
Mr. B now works as a "freelance mathematician" and spends his extra income on "hobbies, drugs and alcohol." What's your drug of choice, I asked him. He confessed weed, and so we smoked him up shortly after the kids went to bed.  A bit loose on wine, he told us the story of our former principal, who started quite possibly the greatest public high school in a state so notorious for its education system that it's not uncommon for families to leave. The old principal was apparently a bit of a stalker who exerted his power over a female staff member who worked there long after we graduated. The story reminded me of my all-time favorite parable, the Ballad of Anthony Weiner. (If anyone ever asked me who I would most want to have dinner with, dead or alive, it would easily be him. And he was blessed by the universe with the most perfect name! I am so grateful to live in a world where a man called Weiner sends women snapshots of his junk.)
But I digress. I texted another high school friend, Sebastian Clay, about my newfound gossip, but apparently it was already old news.
"I think he might be a total Anthony Weiner," I wrote. "Not sure if he texted dick pics, but just as a metaphor: brilliant educator/politician who also happens to be a creep with women."
Sebastian replied, "I [know] about [the principal] from before when I was in Catholic School, he was dismissed from St. M's under similar circumstances, that's how our school came to be, he brought half of the staff from [there] to our [high school], Mr M, Ms C, and I can't remember the English teachers name now, and others that's why the school was so good, they started off with a core of experienced teachers and a leader they believed in, I'm reminded of the Dave Chapelle bit where there's a superhero who saves people but in order to save them he has to rape someone, our stellar high school experience and education was born from a charge of sexual harassment." (emphasis added)

Chappelle's joke was about Bill Cosby, the entitled, ego-maniacal sexual predator.
Mr. B defended our principal to the end. They were pals; still are, in fact.
Mr. B's wife didn't smoke with us, couldn't smoke with us. She's a healer witch (a nurse), and therefore can't take the risk, but she told me stories about being an operating room nurse with urologists and the vile things they would say about women's genitals. She spoke of times when she was groped in the OR, how her body would go stiff, how she'd hope that the hands wouldn't move further. #Metoo didn't exist in those days.
About a year back, Mr. B posted this on Facebook, and yes, I judged him for it: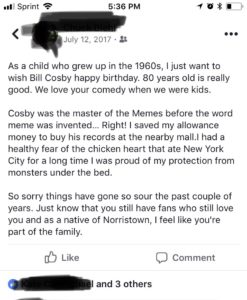 Cosby wasn't pure evil, despite his many atrocities against women. He was nuanced, as we all are. That's what makes Game of Thrones so good. The bad guys (with the exceptions of the Boltons) are complicated. They push little boys out of castle windows, and we somehow still come to care for them. They "rape but they save," in the metaphoric, Dave Chappelle sense.